Start | Products | LANDGRABBER

| | |
| --- | --- |
| | "The Grabber works really well and is easy to throw" Vi Batagare 1/2013 |

The "throw-ashore-anchor" in stainless steel for safe and comfortable berthing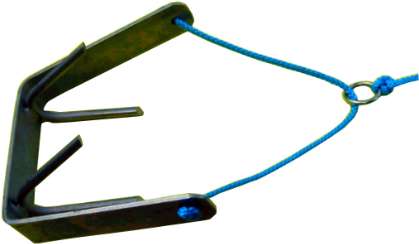 All boating people know for certain how difficult it sometimes is to berth. There is a danger to e.g. sprain a wrist when one is rushed to jump a little bit to soon and to far, perhaps against a slippery rock or a wobbling stone.
The LANDGRABBER is a new kind of anchor to throw ashore, in order to pull the boat in and while temporary holding it being able to under no rush, safe and comfortable step ashore to moor the boat.
The LANDGRABBER grabs - due to its special design - hold of stones, grass tufts, bushes and roots, or cracks and bumps in rocks.
The "pull-equalizing-ring" automatically angles the LANDGRABBER so the pulling force from the line is distributed equally to both the clutches.
Construction: Welded in stainless steel. - Stands rough handling and leaves no rust stains.

Size: Ca 25x19x12 cm. - Small and easy to store.

Weight: Ca 1.2 kg. - Easy to throw.
Price information

Back to Products