"Unbelievably the snatching and creaking stopped immediately when the Bungys were in place" Motorboats Monthly August/2010
"No visibly wear and tear has appeared after 5 years of frequent use in the West Indies tropic climate" Praktiskt Batagande Mars/2007
"These weatherproof - simple to fit - shock absorbers take the sting out of any tight mooring lines" Yachting Monthly May/2005
"A favourite Gear of the Year product! Bungy is so intelligent that it is irresistible" Practical Sailor December/2004
"Putting it plainly, we greatly admire the mind that come up with this idea" Practical Sailor July/2004
"Bungy is the best, easiest to use, most many-sided and price worthiest mooring compensator I ever tried out" Pa Kryss 5-6/2002
"After one season of testing I can verify that Bungy functions as well as promised by the manufacturer" Batnytt 6/2002
"Gut angelegt. Das System schliesst zur Spitzengruppe der getesteten Modelle auf" Yacht 14/2000
"Bungy gave excellent results and achieved the best performance overall" Sailing Today February/2000
"We have tried out Bungy on our editorial boat and recognize obvious advantages with this innovation" Praktisk Batliv 10/1998

The test winning snubber/shock absorber for safe and gentle mooring as well as jibing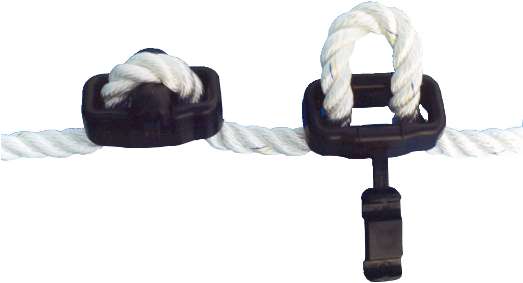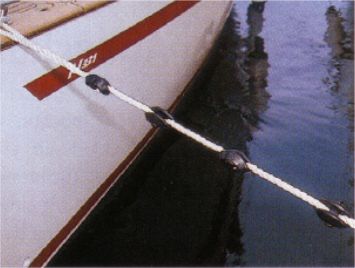 Sometimes the development takes a big step ahead after having made no progress for a long time and it is with pleasure and pride we can present Bungy, which completely lacks all the troublesome limitations of its predecessors.
Bungy:
Is easily and with lightning rapidity fitted to the line, which doesn't need any free end, only a minimal slack.
Is suitable for lines up to 20 mm (and also webbing).
Is manufactured of a weatherproof rubber like material, which does not discolour the line, has excellent elongation properties and regains its shape without becoming weaker.
The size of the boat determines how many Bungy that will be needed on each line. A big boat needs more Bungy than a smaller one.

| | | |
| --- | --- | --- |
| Recommendation for a 9 m boat: | Permanent mooring: | 4 - 5 Bungy |
| | Temporary mooring: | 2 - 3 Bungy |
| | Mainsheet: | 2 Bungy |

Is small and handy (approx. 7x4x4 cm).
Is suitable for most kind of mainsheets and moorings - permanent as well as temporary and also anchor- and buoy lines - and is excellent when towing a dinghy (or a car!).
Bungy functions also as a brilliant shock absorber on the mainsheet:

No problems with violent jerks and bangs when jibing
No problems with jerks when sailing downwind in wavy conditions
Positive effects when sailing windward in gusty winds
Takes only a few seconds to remove when racing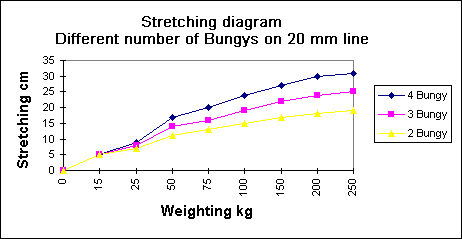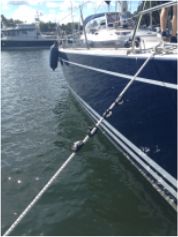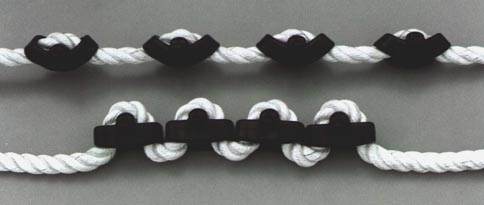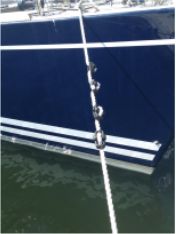 Testimony from users:

Have been using your Bungy snubber for years. I have a 48 Hatteras, I used 12 of your Bungy, during Hurricane Sandy, winds 67 mph and gust over 80 mph. Not a single unit failed. Thank you.
Robert Kornfeld, New York City, USA

There are a few long rubber snubbers available but nothing compares to these cute little compact units. I have been using the Bungy snubbers for about 10 years now. These things are better than fantastic. Easy to put on if needed or take off if so desired. Highly recommended if you are looking for a snubber.
Hans, Montreal, Canada